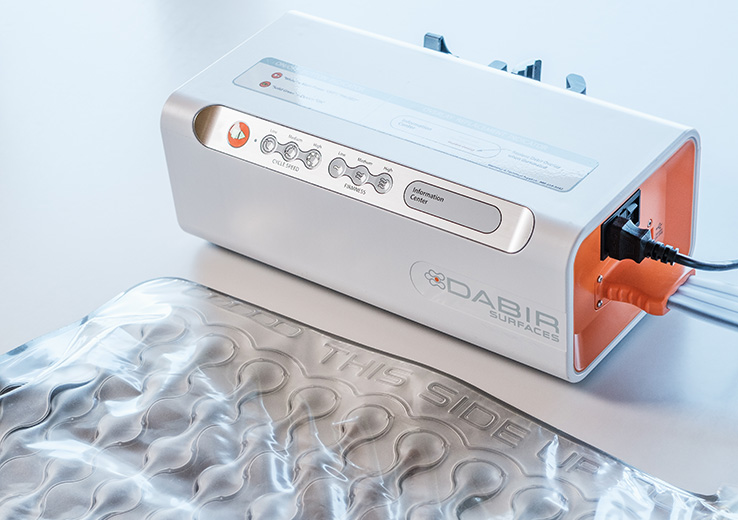 Dabir Surgical System
During the course of care, a patient may spend hours on the operating table. The Dabir Surgical System is designed for the operating room to provide tissue offloading capability, is clinically demonstrated to reduce pressure injuries and is well accepted by the surgical team. Arguably, the best method of treatment is prevention.
Simple Design Specific to the Operating Room
Auto-Start Feature
Worry-Free Protection of Pressure Injury
Our systems are easy to use allowing you to focus on the things that are important during the procedure. Without perfusion occurring in patients due to continuous high pressure, they are susceptible to pressure injuries adding to their overall treatment plan.
Pressure injury prevention in challenging cases
The low profile Dabir surface inflates to 1-inch and minimizes patient movement even in challenging cases. In a clinical study of neurosurgery cases, the Dabir surface was shown to reduce pressure injuries from 6% to 0% while in Head and Neck cases pressure injuries decreased from 3 cases in the preceding 12 months to zero cases in the following 12 months. Patients that acquire pressure injuries or ulcers intraoperatively have longer hospital stays and increased hospital costs. CMS claims that treatment costs for a late stage pressure injury averages $43,180.1
1 Centers for Medicare and Medicaid Services (CMS), HHS. Fed Regist. 2008 Aug 19; 73(161): 48433-9084.
ASK MORE
Operating tables and accessories
Jani Ala-Luhtala